Podiatry clinic
Diabetic foot problems are among the most serious and costly complications of diabetes. Several risk factors increase the chances of a person with diabetes developing foot problems and diabetic infections in the feet.
Dr Kannampilly's Diabetic Specialty Centre provides multidisciplinary foot care for patients with painful neuropathies, acute diabetic foot problems, eg, diabetic foot ulcers, infections, suspected osteomyelitis (bone infection) and  Charcot's osteoarthropathy.
Services Offered:-
Preventive Foot Care
Neuropathic Assessment
Assessment of Vascularity (ABI)
Foot Ulcer Management
Specialised Foot Wears
Preventive Foot Care
We have specialised podiatry therapy for patients who have the burning sensation, numbness, pain in the foot. A large number of patients have benefited from this therapy.
Neuropathic Assessment 
Diabetic Neuropathy is a type of nerve damage that affects individuals who have diabetes. Symptoms include pain,  numbness and burning sensation in the legs
Our centre has got the advanced technology to detect early nerve damage and stop its worsening.
Biothesiometer- To check vibration sensation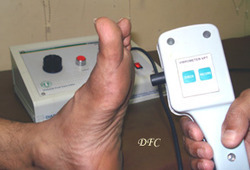 2. Thermal perception test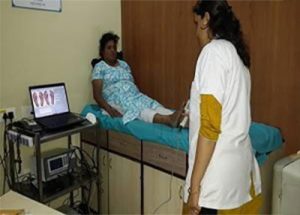 3. Infrared thermometer – to detect early charcot foot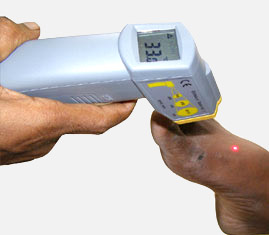 4. Foot scan Paedopodogram – To detect high-pressure area which can become ulcer.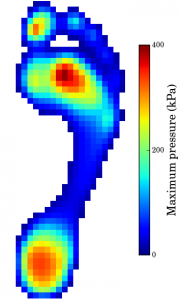 Assessment of Vascularity
Ankle-brachial index
The ankle-brachial pressure index (ABPI) or ankle-brachial index (ABI) is the ratio of the blood pressure at the ankle to the blood pressure in the upper arm (brachium). Compared to the arm, lower blood pressure in the leg suggests blocked arteries due to peripheral artery disease (PAD)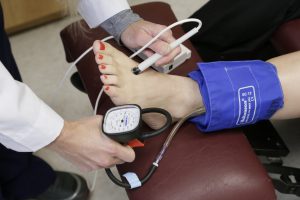 Foot Ulcer Management
The management of diabetic foot ulcers requires multidisciplinary teamwork. Our centre has got the renowned diabetic foot specialist, podiatry nurse specialist and orthotist to manage the most difficult non-healing ulcers. We have the record of saving the highest number of limbs from amputations.
Specialised Footwears
We have advanced diabetes footwears for individual patient needs.