Diabetes super-specialty center
Diabetes is a disorder of glucose metabolism. We do not have to worry about diabetes if you take care of it from the beginning.  If it is left uncontrolled it will affect all the major organs of the body, like brain, eyes, heart, liver, kidneys, nerves, arteries, sexual organs, legs and cause major diseases which are very dangerous, disturbing and expensive to manage. In the initial first 15-20 years, diabetes will be silent even if the sugars are not under control, but it will be damaging the organs slowly. This is why diabetes is called a silent killer.  So diabetes has to be controlled well from the very beginning to prevent it from damaging the major organs causing complications later. Our centre specialises in preventing or worsening of these diabetic complications, through specialised treatment programme.  We have some of the world call state of the art test and technology to treat and manage diabetes better.
HbA1c blood test
All patient should undergo this specialised blood test once in three month and make sure that it is within the control limit of 6.5 in young people and 7 in above-middleaged people and 7.5 -8 in very older people. If HbA1c is not undercontrol you may not feel anything outside but your internal organs will slowly get damaged.
Continuous Glucose monitoring
Continuous glucose monitoring is offered to people struggling with hyperglycemia , uncontrolled HbA1c, hypoglycemia and fluctuating blood sugar.
Continuous glucose monitoring device is applied on the arm which is pain-free and an OP procedure which takes only a few minutes . This equipment is kept for 14 days and patient can go home and carry on with his normal routine. Patient has to come every 3rd or 4th day to the clinic and the blood glucose recording is downloaded to the computer. And our specialised doctor trained in this technology analysis the daily fluctuations of blood sugar and makes treatment changes including diet and exercise advice tailor-made to each individual patients. This brings about good control of blood sugar and prevents development of future diabetic complications.  Through this treatment hypoglycemia also can be correct.
Insulin Pump Therapy
An insulin pump is a small device about the size of a small cell phone that is worn externally and can be discreetly clipped to your belt, slipped into a pocket, or hidden under your clothes. It delivers precise doses of rapid-acting insulin to closely match your body's needs. This insulin pump helps in type 1 and type 2 diabetes who's sugar are not well controlled.
Dr Johny Kannampilly was the first to introduce and install insulin pump therapy in India in 2003. More than 200 patients are on insulin pump therapy since then.  We have now new insulin pumps with low glucose suspend, which means the pump will detect hypoglycaemia by sensor technology and automatically stop pumping insulin and restart when the sugar becomes normal.
Peripheral Neuropathy
Diabetic Neuropathy is a type of nerve damage that affects individuals who have diabetes. Symptoms include pain,  numbness and burning sensation in the legs
Our centre has got the advanced technology to detect early nerve damage and stop its worsening.
Biothesiometer- To check vibration sensation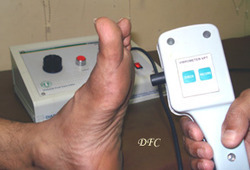 2. Thermal perception test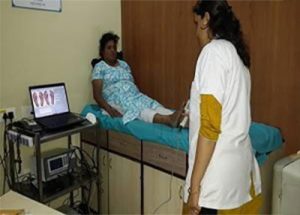 3. Infrared thermometer – to detect early charcot foot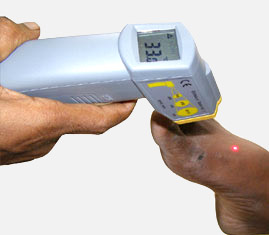 4. Foot scan Paedopodogram – To detect high-pressure area which can become ulcer.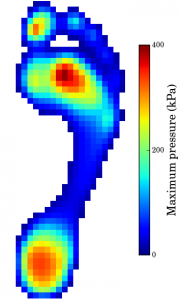 Diabetic retinopathy
Diabetic retinopathy occurs when changes in blood glucose levels cause changes in retinal blood vessels. In some cases, these vessels will swell up (macular oedema) and leak fluid into the rear of the eye.
In other cases, abnormal blood vessels will grow on the surface of the retina.
Unless treated, diabetic retinopathy can gradually become more serious and progress from 'background retinopathy' to seriously affecting vision and can lead to blindness.
Our centre has got state of the art fundus camera which is connected online with the expert ophthalmologist.
Diabetic nephropathy
Diabetic nephropathy is the damage caused to the kidneys by diabetes mellitus. Around 50% of individuals with type 1 diabetes will develop nephropathy within 10 years of having the disease and around 20% of those with type 2 disease will develop it within 20 years.
In the early stages of diabetic nephropathy, when the urine levels of albumin are raised, blood pressure medications such as ACE inhibitors may be used as they can reduce the protein leakage. In more advanced stages, treatment includes control of blood sugar and blood pressure as well as the correction of other factors that raise the risk of heart disease such as high blood cholesterol.
Microalbumin Test
Our centre has the facility to detect early kidney damage test called Microalbumin test.
Diabetic cardiac disease
Heart and vascular disease often go hand in hand with diabetes. People with diabetes are at a much greater risk for heart attacks, strokes, and high blood pressure.
In people with diabetes, the linings of the blood vessels may become thicker, making it more difficult for blood to flow through the vessels. When blood flow is impaired, heart problems or stroke can occur.
We do once a year treadmill test and echocardiogram test to detect early heart disease and prevent from a major heart attack which may sometimes even be fatal.